Perfection. Absolute pure perfection! I've already recommended them to like 3 people and I intend to continue to share the love. Thank you Beth! You and your chonky bois (as I affectionately call them) have saved this crafter's hands.
Zuri
This is the best thing I have found for crochet. I can crochet longer and more comfortably. I have tried lots of hooks and this blows them out of water. I love that this fits multiple size hooks, it is way more cost effective than having to buy each hook. I also love that I can use the type of hook I prefer with it as I prefer inline hooks. I will definitely be ordering the other sizes for myself and for gifts to share with my crocheting friends.
Samantha
I have cerebral palsy And when I used to knit my hand used to lock up and hurt but sense using the chunky boy handle my hands don't lock up anymore and they don't hurt It's absolutely amazing I love this product
mnhale93
this item is AMAZING!!! i bought it because of my chronic shoulder issues and thought that it may help. before this product, i couldn't crochet for more than 20 minutes without having severe fatigue in my shoulder. i had to leave this review because i was able to crochet for an hour last night without skipping a beat!!! everyone should have one of these!!!
Colleen
I have a lot of joint and nerve issues that affect my hand and THIS is the best thing ever. I'm able to crochet longer and my hand doesn't hurt the next day :)
Hannah
Never going back to normal hooks again. I have an injured wrist and can't even compare how much more comfortable it is to use now! And to make it even better- my tension has never been more even and I'm finding my pieces are working up significantly faster. Working with thinner yarn has also been much, much easier, I'm experiencing much less splitting & I'm finding it way easier to manoeuvre between stitches. Couldn't recommend them more!!!
Ayah
Helped my hand cramps so much! Complete game changer!
Becky
I love it! It's totally stopped my hand from cramping as i work!
Abigail
Love this chonky guy! It relieves my hand pain and keeps my tension consistent! 10/10 would recommend getting one!
Lethe
comfort is here
Never struggle with hand cramping or wrist discomfort again!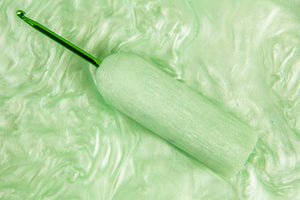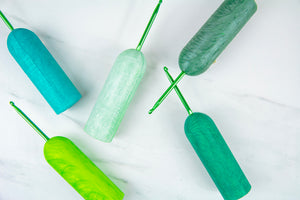 Meet the maker
I have loved crafting my entire life. I firmly believe that EVERYONE should be able to craft in any medium regardless of physical ability. Turning a ball of yarn into a finished project has always seemed magical to me, no matter how many projects I've done. Providing my customers with the tools to do what they love (or pick up a new hobby) in comfort has truly been the most rewarding experience of my life. But enough about the business you're probably here to learn about the gal behind it! I live just outside Austin, TX with my hubby Nick and my rescue pup Arlo. I am a total book worm, and devour romance novels like they're going out of style. If you'd like to get to know me better head over to my Tiktok!